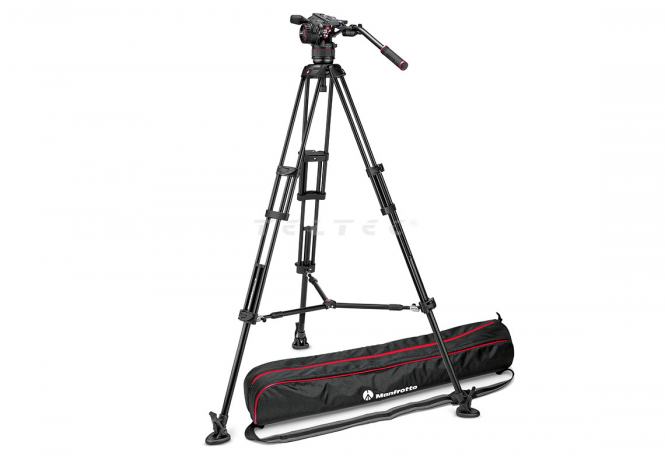 Manfrotto NITROTECH N8 & 546B TWIN MS
Tripod system 75mm, 0-8kg, spider, bag
Only very limited amounts available
Only very limited amounts available
Manfrotto NITROTECH N8 – MVKN8TWINM
Tripod system made of fluid head & 546B tripod with a load capacity up to 8 kg
The revolutionary tripod head for professional and ambitious filmmakers offers for the first time the possibility of a continuous and smooth counterbalance from 0 to 8 kg. This allows precise settings for a wide range of different camera configurations and thus precise control of camera movement.
The heart of the new fluid video head is the Nitrotech damper, whose unique geometry enables weight compensation at the highest professional level for the first time in this tripod head class – both for heavy video cameras (up to 8 kg) and for light mirrorless system cameras (approx. 500 g). Thanks to the precisely adjustable counterbalance, the camera can be tilted with absolute accuracy and remains exactly in the desired position. The friction damping can be adjusted separately on both axes (pan and tilt) so that even demanding camera movements can be realized at the required speed. In combination with the Nitrotech Counterbalance, an unlimited number of creative shooting possibilities is opened up to the filmmaker.
The Nitrotech fluid video head has a quick-change unit with a double locking device that allows the camera to be easily removed from the top (top release). The long sliding plate also allows the equipment to be quickly balanced.
Manfrotto friction arms can be used to attach other accessories, such as external monitors or LED lights, via an Easy-Link connection with anti-rotation thread. The flat base has a 3/8″ thread which allows the head to be used on a wide variety of tripod and support systems (e.g. slider, crane).
Main features
Innovative nitrogen technology for precise counterbalance from 0 to 8 kg
Variable adjustable damping on two axes (swivel and tilt)
Quick-change unit with sliding plate and additional fuse
Easy-Link connection with anti-rotation thread for external monitors or other accessories
Manfrotto quality – high-quality workmanship and revolutionary design
2-year manufacturer's warranty (after online product registration extension to 5 years)
Technical data
NITROTECH N8 Fluid Video Head + 546B Tripod
Load capacity 0 – 8 kg
minimum height approx. 74,5 cm
maximum height approx. 170 cm
closed length approx. 89 cm
Own weight approx. 6.1 kg
Stand adapter plate 504PLONGR