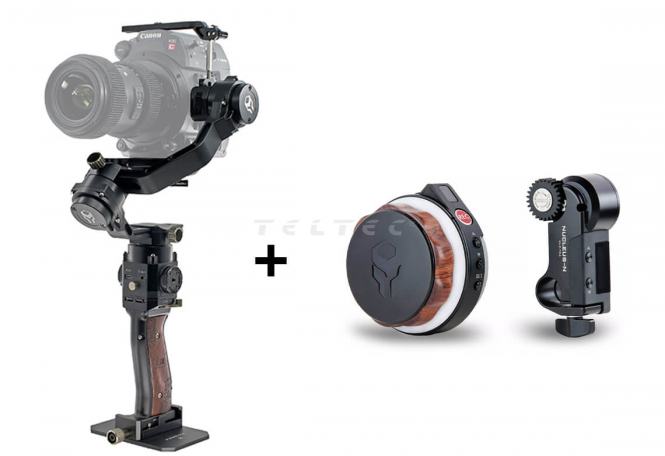 Tilta Gravity G2X + gratis Nucleus Nano
Handheld gimbal with payload up to max. 3.6 kg,
3-axis handheld gimbal system for cameras up to 3.6 kg with 45 ° inclined roll axis
Suitable for:
Blackmagic Pocket Cinema Camera 4K
Sony Alpha 7S, Alpha 7S II, Alpha 7R, Alpha 7R II, Alpha 7R III, Alpha 7 III
Panasonic Lumix DMC-GH4, Lumix DMC-GH4R, Lumix DC-GH5 and DC-GH5S
The Tilta Gravity G2X 3-Axis Handheld Gimbal is designed for mirrorless cameras, DSLR cameras, smart phones and GoPro cameras. The Gravity G2 Gimbal has four user modes and is compatible with the Tilta Assistant app via Bluetooth. Two rosettes on the handle enable the installation of various accessories. The maximum load is approx. 3.6 kg. The Gravity G2 Gimbal has a 14.8 V DC output that allows it to power optional accessories. A 5V mini USB port can power the Nucleus Nano motor.
G1 Power Handle may not be compatible with the G2 and G2X
The version is delivered without a hard case.
Supplied with no batteries, the Gravity G2X requires 6 18650 batteries .
Key Features:
Compact 3-axis handheld gimbal
maximum load of up to approx. 3.6 kg
14.8 V DC output for power supply of accessories
5V mini USB output for powering the Nucleus Nano engine
up to 10 hours of operation at full battery charge
no case included